Start Here: Five New Comics for April 21st
Apr 20, 2021
Way of X #1, The Old Guard: Tales Through Time #1, and more headline this week's new #1s you can find at your local comic shop on Wednesday, April 21st.
Whether you're looking to add a new series to your pullbox or you want to get in on a hit comic before it's cool, these new first issues and story arcs are the best place to start when you're looking for new comics this Wednesday.
All you have to do is Start Here.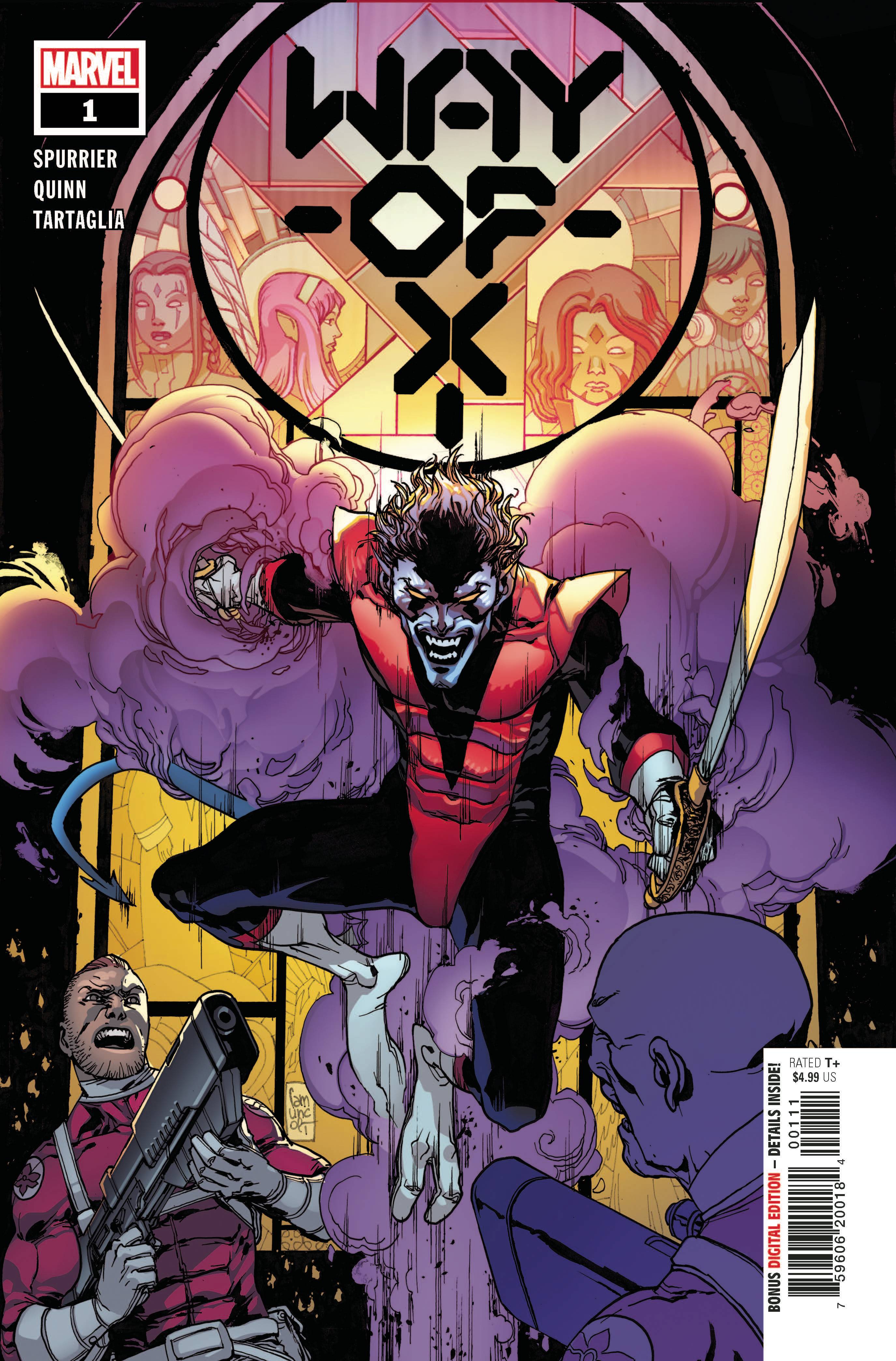 Way of X #1 (FEB210518)
Mutantkind has built a new Eden... but there are serpents in this garden. Some mutants struggle to fit in. Some mutants turn to violence and death. And the children whisper of the Patchwork Man, singing in their hearts...Only one mutant senses the looming shadows.
Snared by questions of death, law and love, only Nightcrawler can fight for the soul of Krakoa. Only he - and the curious crew he assembles - can help mutants defeat their inner-darkness and find a new way to live. The Way of X.
Si Spurrier (X-Men Legacy) and Bob Quinn (Captain America) push the frontiers of Krakoa in this unmissable entry into the bold new Reign of X.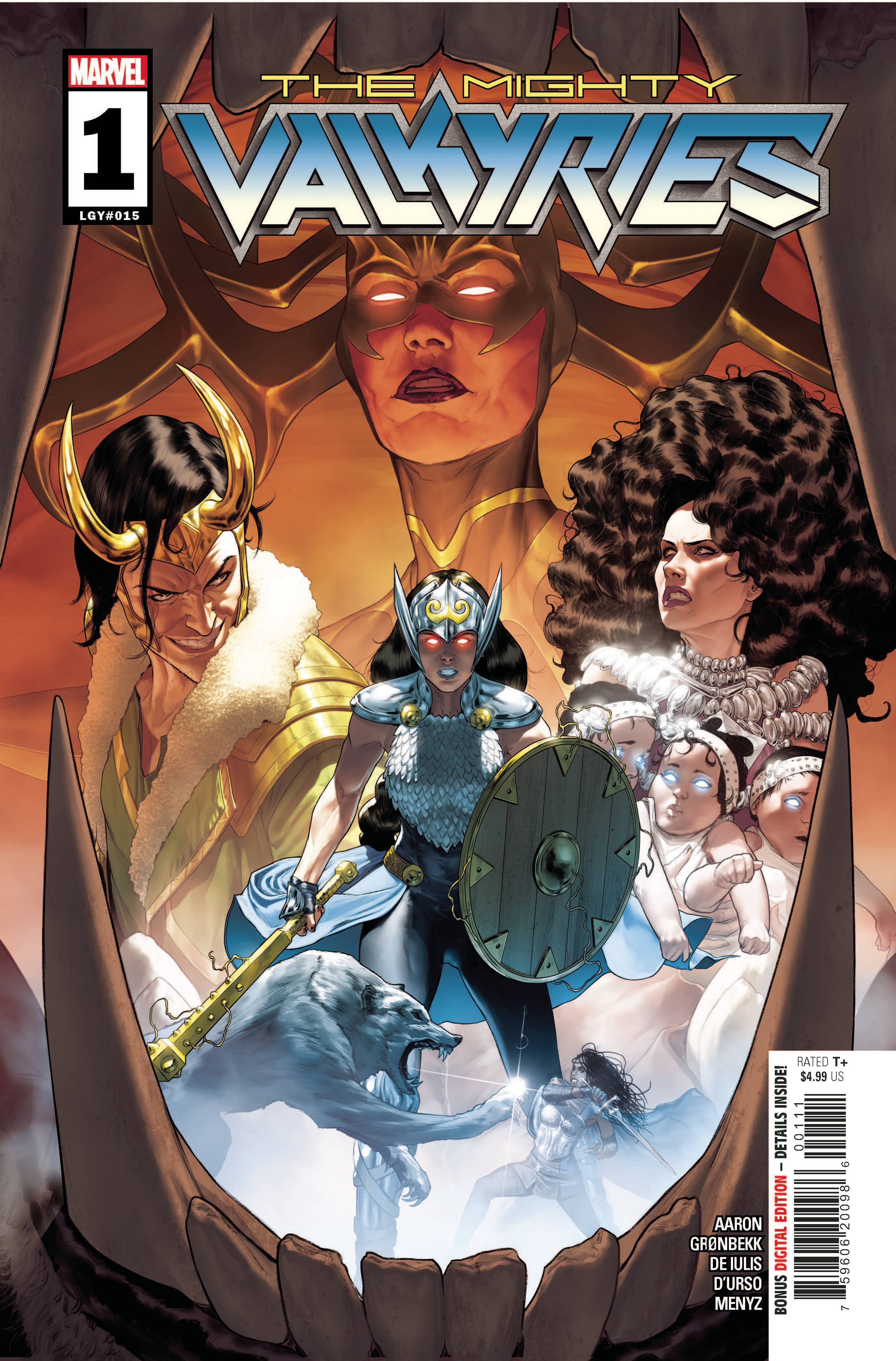 The Mighty Valkyries #1 (of 5) (FEB210508)
Jane Foster gets a fresh start - and allies both new and old!
Jane Foster believed she was the only Valkyrie left - but the fight against Knull, the King in Black, proved her wrong. Now the Valkyries must redefine their roles in a changing world - and Asgard's not going to make it easy.
When Loki comes to Jane with rumors of a beast stalking the souls of Midgard, she leaps into action - but she's not the only one after the strange wolf's hide. She'll need backup...but her ancient coworker has other priorities. Years ago, the warrior made a promise to a woman she loved. And now, it's time to follow through.
Get the real story behind the Marvel Universe's newest star - and don't miss the start of an all-new epic adventure from powerhouses Jason Aaron, Torunn Gr nbekk and Mattia de Iulis!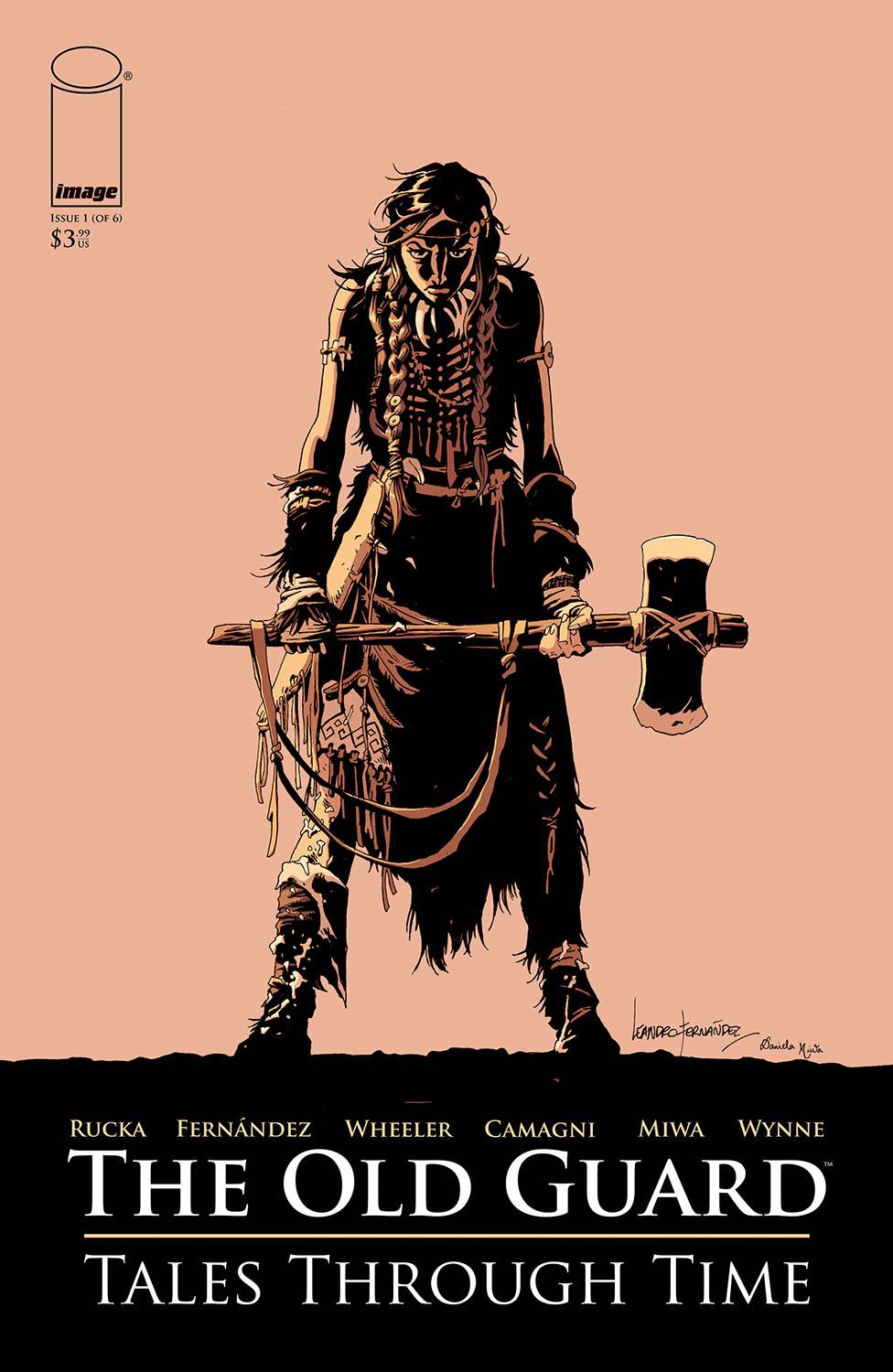 The Old Guard Tales Through Time #1 (of 6) (FEB210016)
The bestselling, critically acclaimed series The Old Guard, now a hit Netflix movie starring Charlize Theron, returns with all-new stories by writers Greg Rucka, Vita Ayala, Brian Michael Bendis, Kelly Sue Deconnick, Matt Fraction, David F. Walker, and more. Along with artists Leandro Fernández, Horacio Altuna, Rick Burchett, Valentine De Landro, Justin Greenwood, Kano, Nicola Scott, and more!
Andromache the Scythian-a warrior over six thousand years old, who has fought more battles than she cares to remember-has kept one constant companion through her long lifetime of combat...her labrys. Andy's battle axe takes many forms, and many lives, in its centuries at her side, a story told by The Old Guard creators Greg Rucka & Leandro Fernández.
Meanwhile, Nicolo "Nicky" di Genova and Yusuf "Joe" al-Kaysani, lovers since they tried (and failed) to kill each other in the First Crusade, spend an evening at Berlin's famed Eldorado nightclub in the twilight era of 1932, sharing drinks with drag queens and fistfighting Nazis in an all-new story by writer Andrew Wheeler (Another Castle: Grimoire) and Jacopo Camagni (Nomen Omen)!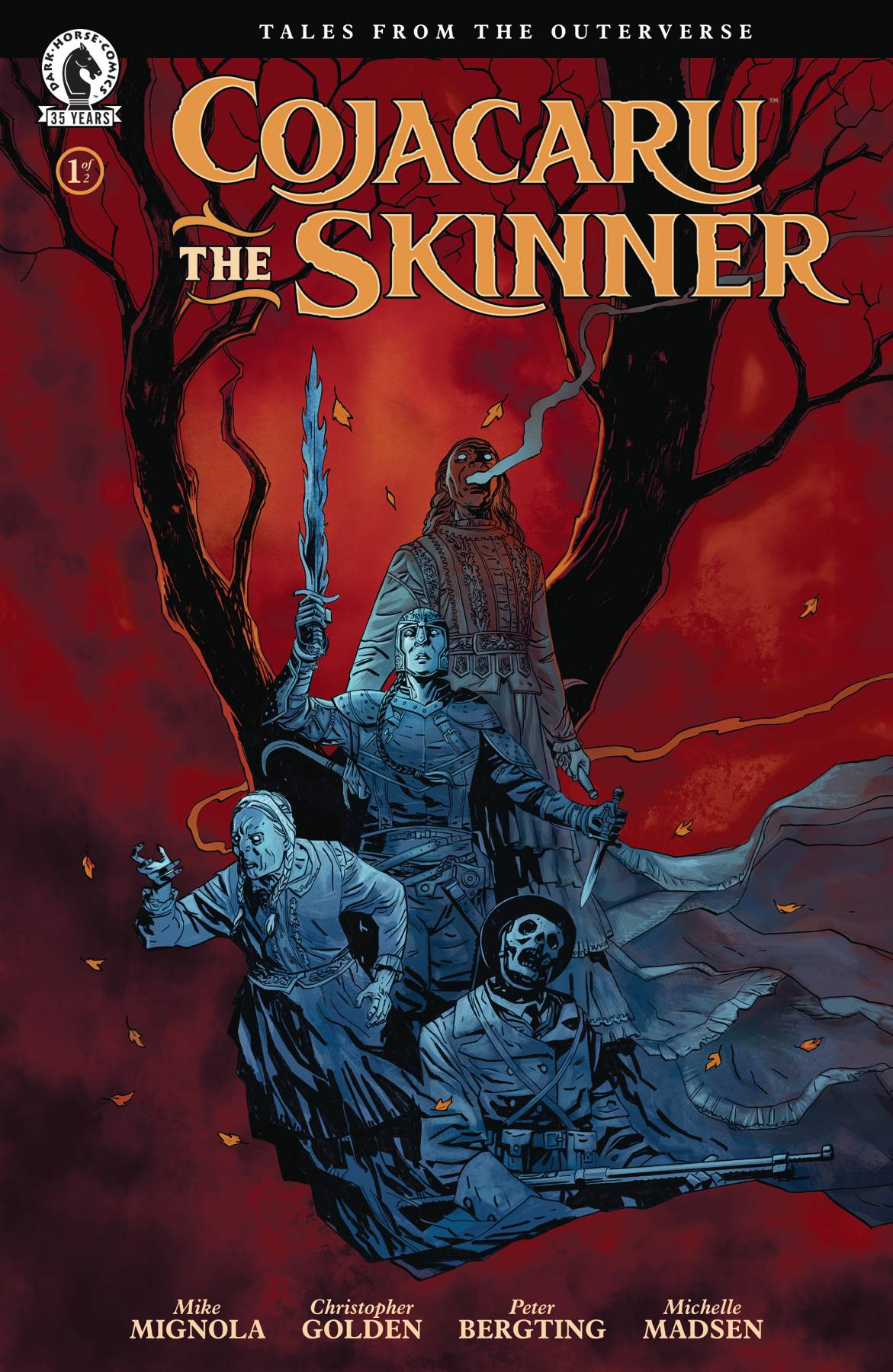 Cojacaru the Skinner #1 (of 2) (FEB210226)
Cojacaru the Skinner, the strange and enigmatic bane of Eastern European witches, has been dead many years. But from a bloodied French town in the throes of World War II, a plea for help carries across the winds of time. A desperate band of resistance soldiers and their white witch allies rest their fate in the hands of Cojacaru's ghost. And when she answers their call, it will be heard near and far.
Celebrated horror writers Mike Mignola and Christopher Golden return to tell the story of Cojacaru the Skinner, once a small girl named Crina who befriended a witch-hunting golem. Rejoined by artist Peter Bergting (Baltimore and Joe Golem: Occult Detective) and colorist Michelle Madsen, the tale they spin will be one of horror, desperation, and ultimately hope.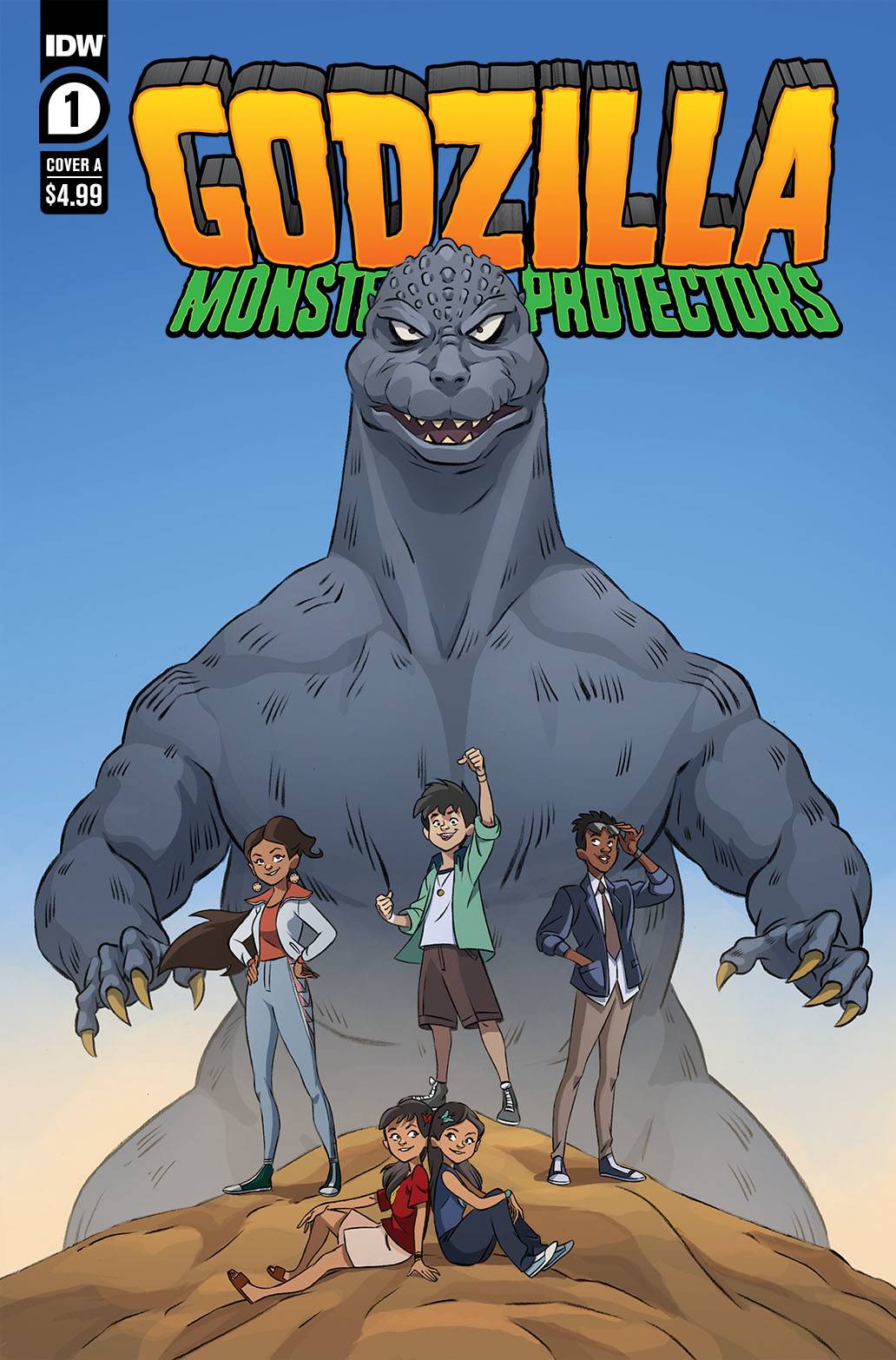 Godzilla Monsters & Protectors #1 (FEB210451)
"Rise Up!" Part 1: When a coldly single-minded businessman uses an untested element to create clean energy for a profit, he inadvertently awakens the beast from the deep--Godzilla!
Sensing the harm the new energy poses to the planet, Godzilla attacks the heart of the problem--humankind! It will be up to three intrepid middle-school students--with a little magic help from Infant Island--to show Godzilla that not all humans are bad... and that there is still hope for Planet Earth.
Reuniting the blockbuster creative team of writer Erik Burnham, artist Dan Schoening, and colorist Luis Antonio Delgado (Ghostbusters), Godzilla: Monsters & Protectors promises to romp and stomp fans--old and new--of the greatest kaiju ever like never before!