Robert Kirkman, has gone from creating and drawing his own comic book characters as a child, to becoming the Executive Producer and writer of the hit AMC television series, The Walking Dead, as well as the writer/creator of the Eisner Award-winning comic the series upon which the TV series is based. From that series have come video games, merchandise and more. The 100th issue of The Walking Dead was released the week of 2012's San Diego Comic-Con, where its multi-cover release was met with a total sell-out across the nation, and even a special Zombie Obstacle course held at the nearby stadium. This year, Krikman won Spike TV's "Game Changer" Award and the "Innovator" Award at the Saturn Awards. And on January 23, Kirkman will release his 100th issue of Invincible, being released with multiple covers just like The Walking Dead.
While not the cultural phenomenon that is The Walking Dead, Robert Kirkman's Invincible has lasted the test of time, garnering fan and critical praise alike for its mix of teenage angst, sci-fi trappings and classic super hero action. Every issue is a solid read, filled with the stuff that makes super hero comics great… and great to read.
And with issue #100 of Invincible (NOV120425, $3.99) hitting comic shops a few short months, we spoke with creator Robert Kirkman about the series' long road to this landmark issue, as well as the universe of heroes and villains that it spawned…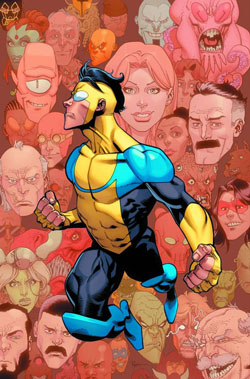 PREVIEWSworld: Invincible ships its 100th issue in January, when you started the book ten years ago did you think it would continue this long?
Robert Kirkman: No, the book had a rocky start for about a year. In fact, there was a time when I thought issue #13 was going to be the last issue. But then things turned around pretty quickly and the book found a sure footing for itself. It became clear pretty early on that the book would continue for a while. Making it to issue #100 was always a dream, but I never thought it was actually possible. So, to be on the cusp of reaching that number is a pretty awesome thing. It's something that Ryan Ottley and Cory Walker and everyone that's worked on the book is really excited about.
It's also really strange to have two books hitting that number pretty close to each other and continuing on past that. When I got into this industry, my career goal was to have a comic book that I could tell stories with for as long as I wanted, really dig in deep and tell long-form stories for a good number of years. And to have that happen on two books... I feel incredibly fortunate to be able to do that.
PREVIEWSworld: How has the book evolved over the course of those 100 issues from what your original vision was back in '02?
Kirkman: I always had the Viltrumite story and I think that's really been the core of Invincible as it's moved forward and everything else has been revolving around that story line. Moving over the course of the 100 issues I've been building towards different things and a lot of that culminated in the "Viltrumite War" that occurred around issue #75 and those surrounding issues, but that story's not over and there's quite a bit going on with the Viltrumites behind the scenes. It's been that story that's become the through-line of the series. There's been a lot going on and I'm really proud of the way we've been able to have the characters evolve over the course of the series. I look at the cast we have now and I see very different characters from where they were in the beginning. That makes me think we're doing our job right. The fact that Mark Grayson himself is older, more experienced and thinks differently than he did in the beginning, is one of the goals of telling a long-form story and I think that we've done a pretty good job with it.
That being said, it's fun to be able to have Mark take a back seat to some of the other characters and get to do a little work with them from time to time, that's something that's happened a few times over the life of the series. The supporting cast is as important to the book as Mark is. Coming out of these recent issues and moving toward issue #100, we're definitely bringing Mark back to the forefront and we're going to be doing some really interesting things with him that I'm pretty excited about.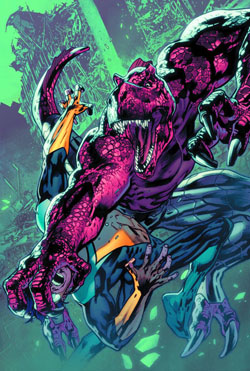 Bryan Hitch cover
PREVIEWSworld:Over the course of the series what's been your favorite part about being able to build your own universe?
Kirkman: Having the book at Image comics, being an owner of the book and being able to control every aspect of the book gives us more freedom for the story telling. Conquest is a good example of this. He was a villain that took the readers by storm and became a fan favorite very quickly. He had a set story. We told that story, and then he died. He will never be in the book again. That's not really something we could do if this was a corporate comic. It would be like, "When's that Conquest guy coming back? We know he's dead but he's very popular so we've got to get him back."
Having the freedom to tell the stories we want to tell, and kill the characters that we want to kill, or go in directions that you wouldn't really expect, has made the book that much better. It's a testament to how great Image Comics is that we get that kind of freedom. It's made the book that much more fun to work on.
PREVIEWSworld: Creating new Super Heroes that "stick" in today's market has become increasingly challenging. What do you think helped make Invincible not only a creative success but a commercial one as well?
Kirkman: Everyone that works on the book is a comic book fan. I like to say that Invincible is everything that I've ever loved about super hero comics but in one book. So it really is a super hero comic for people that have been reading super hero comics for a really really really long time. To the point where they're able to recognize the formula and they can predict what's going to happen, because there's a cycle to the storytelling of super hero comics. We are a book that tries to play within those parameters to a certain extent but we often times break out of it, in hopefully exciting and fun ways. So I think that by playing with the conventions of super hero storytelling in a way that is almost tongue-in-cheek and to certain extent a little bit like a parody, but it's not a parody story, it's very serious and interesting and compelling. I like to think that we have become the super hero book for the jaded super hero fan.
You can definitely tell that the book is worked on by people who love these super hero books and have a great understanding of the genre. You've expanded to do the Guarding the Globe series. Would you ever consider expanding the universe further into additional books?
That's something that I'd be open to doing. I've done books like the Astounding Wolfman, Tech Jacket, Capes and Brit that have existed in the same universe as Invincible. I could foresee a future where all of those books are running concurrently and there's an overall tapestry to the universe. Creating a big continuity that you get to read different pieces of every week, that's pretty exciting to me as a comic book fan. I don't know that I'll ever have the resources to get to that point but that certainly would be neat.
PREVIEWSworld: Any additional info that you'd like to share about Invincible #100?
Kirkman: I will say that the "Death of Everyone" storyline that's going to carry us through issue #100 is going to be the craziest, most intense thing that's happened in the book yet. Fans should definitely be on the lookout for it!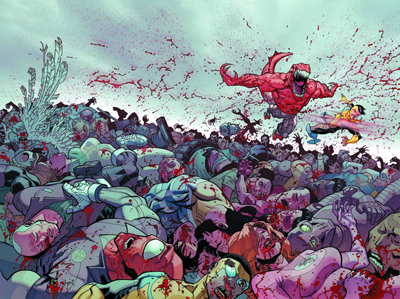 Ryan Ottley wrap cover