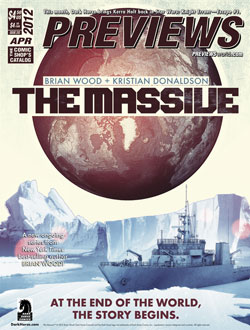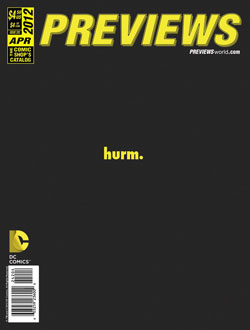 (BALTIMORE, MD) — (March 16, 2012) — The April edition of Diamond Comic Distributors' PREVIEWS catalog arrives in comic shops, hobby stores, and other specialty outlets on March 28th and features comic books, graphic novels, toys, and other pop culture merchandise scheduled to go on sale beginning June 2012.
The newest catalog features a front cover spotlighting Dark Horse Comics' THE MASSIVE #1, an original ongoing series from Writer/illustrator Brian Wood and artist Kristian Donaldson. The story follows a group of environmentalists who must put their survival instincts to the test as their world is drastically altered by disaster, and they must search this dying world for their sister vessel, The Massive.
April's back cover from DC Comics features a single word, a sound really, that Watchmen fans know all too well as the guttural exclamation of the mysterious Rorschach. This "hurm" announces the coming of DC Comics' BEFORE WATCHMEN, the series of prequel tales to one of the bestselling graphic novels of all time. They're all here: the Minuteman, Silk Spectre, The Comedian and Nite Owl, featuring the work of Darwyn Cooke, Len Wein, Amanda Conner, Brian Azzarello, J.G. Jones, John Higgins, Andy and Joe Kubert, and J. Michael Stracyznski.
April PREVIEWS Features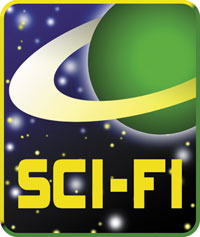 Monthly SCI-FI Theme: The April edition of PREVIEWS has a super fun, Sci-Fi theme, highlighting the newest sci-fi themed comics and graphic novels, as well as a host of backlist titles to take you to the very edges of your imagination! Our Sci-Fi theme also coincides with the 50th Anniversary of MARS ATTACKS, which is getting a massive push from its originator, Topps, as well as new products and tie-ins from IDW Publishing (comics), Funko (Toys), Mezco (Toys) and T-Shirts in the PREVIEWS Apparel section. Plus, look for an exclusive interview with Len Brown, co-creator of Topps' MARS ATTACKS cards.

Indie Edge: This month's Indie Edge section puts the focus on creator Doug Paszkiewicz. Paszkiewicz is a comic book writer/illustrator known for his 18-isssue independent publication, Arsenic Lullaby. Paszkiewicz has also worked with Mad Magazine, Image Comics, Too Much Coffee Man Magazine, and various national publications.

Gems of the Month: April's PREVIEWS Gems of the Month include Dark Horse Comics' THE MASSIVE #1 and STAR WARS: KNIGHT ERRANT—ESCAPE #1, DC Comics' BEFORE WATCHMEN: MINUTEMEN #1 and AMERICAN VAMPIRE: LORD OF NIGHTMARES #1, IDW Publishing's MARS ATTACKS! #1, Image Comics SPAWN #220 and PLANETOID #1, and Marvel Comics' SPIDER-MEN #1.

PREVIEWS Exclusive Apparel: March's line-up of PREVIEWS Exclusive apparel - available only in comic book specialty shops - features a variety of comic- and movie-based T-shirt designs, including Adventure Time: "Jake Face," Hercules: "Step Aside," Mars Attacks: "Ray Gun" and V for Vendetta: "Accountable." You won't find these uniqueTees anywhere else other than a comic book specialty shop in your area.
Plus: Staff Picks, our Bestseller Charts and much more!
All this awaits you in the April edition of PREVIEWS, which goes on sale at your local comic shop or specialty store on Wednesday, March 28th at a cover price of $4.50. Ask your comic shop retailer about how you can qualify for a free issue.
For a sneak peek at this issue's Gems, Featured Items, and more, visit www.PREVIEWSworld.com.
To find a comic shop near you, visit www.comicshoplocator.com.