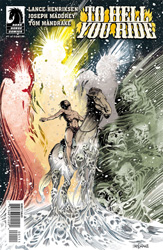 Publisher: Dark Horse Comics


(W) Lance Henriksen, Joseph Maddrey
(A/Cover) Tom Mandrake
A deadly curse plagues the small town of Telluride, melting the flesh from its victims.
See violent revenge that four warriors set into motion when their sacred burial grounds are disturbed for the sake of gold miners' greed!
A new horror series written by Lance Henriksen (Millennium, Aliens, Near Dark) and Joseph Maddrey (Nightmares in Red, White and Blue: The Evolution of the American Horror Film), with art by Tom Mandrake.
---
Item Code: OCT120011 In Shops: 12/12/2012 Price: $3.99
---
Are you following PREVIEWSWorld on Twitter yet?