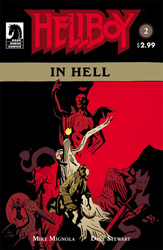 Publisher: Dark Horse Comics

(W/A) Mike Mignola
(Cover) Mike Mignola, Dave Stewart

In Pandemonium, the dead wait for Hellboy to claim his throne.
But is he interested?
Mike Mignola returns to draw Hellboy's ongoing story for the first time since Conqueror Worm. It's a story only Mignola could tell, as more of Hellboy's secrets are revealed.
---
Item Code: NOV120039 In Shops: 1/2/2013 Price: $2.99

---
Are you following PREVIEWSWorld on Twitter yet?