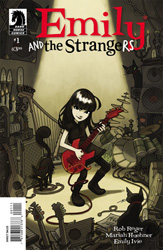 Publisher: Dark Horse Comics
(W) Rob Reger, Mariah Huehner
(A) Emily Ivie
(Cover) Emily Ivie, Buzz Parker
With the help of her trio of troublemaking cats, Emily is determined to make the most rockin' song the world has ever known and win a legendary haunted guitar.
But can she do it solo?
Only one thing is for sure-what Emily wants, Emily gets.
Sometimes.
---
Item Code: NOV120034 In Shops: 1/30/2013 Price: $3.99

---
Are you following PREVIEWSWorld on Twitter yet?